DDSend provides the ability for individuals in the field to capture their receipts, records, or even generate a PO and quickly submit it, with the appropriate index fields, to a central repository. You create your own list of document types and fields to capture.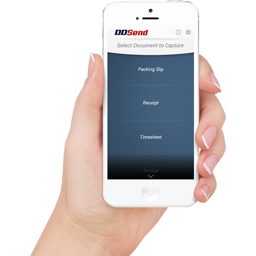 Capture

Use your smartphone or tablet camera to capture single or multi-page documents.

Edit

Resize images and add custom index values to organize your documents.

Save

Securely upload your data to a central repository.
Need help?
If you have downloaded DDSend and would like to know more about how you can use it successfully, please contact DocuDriven at 360-760-4266 or email info@docudriven.com.